Told/Retold
Elizabeth Barsham & Allan Mansell
Saturday 25 March – Sunday 28 May 2023
In this exhibition Elizabeth Barsham and Allan Mansell reflect, from two very different backgrounds, on the stories that have been told and retold over the last two hundred years about the colonisation of lutrawita/Tasmania and its lasting impact on the palawa /pakana (Tasmanian Aboriginal people). 
Elizabeth's colourful oil paintings, with their humorous characters and seductive colour, obscure the darkness of the subject matter. 
Allan Mansell tells stories of this land, its flora and the fauna in his prints – looking at what was, what is and what can happen. These stories are conveyed in his distinct visual vocabulary of simplified forms of echidnas, leaves, ants, snakes, birds and more.
About the artists
Elizabeth Barsham
Born and schooled in Hobart, Elizabeth Barsham spent three years travelling the Australian outback before settling in Melbourne. There she studied oil painting techniques with Wesley Penberthy, a former student of Norman Lindsay. In the late 1990s she returned to live in her family's old farmhouse on the outskirts of Hobart, where she has her studio. Elizabeth has been a practising artist since the 1980s. She exhibits regularly and has won many awards, including Best Drawing, Best Painting and People's Choice in different Material Girl (now Women's Art Prize) exhibitions and first prize for painting in the City of Clarence Art Award. She has also been a finalist in the City of Hobart Art Prize, the Blake Prize and the Glover Prize.
Allan Mansell
Allan Mansell is a celebrated Tasmanian Aboriginal artist of the Plangermaireenier Nation. He hails directly from the survivors of the British invasion that inhabited the islands of the Furneaux Group. His family were the last of the Indigenous Nomadic Bands who traversed Tasmania. He was later taken by the authorities and became part of the Stolen Generation. He has worked on fishing boats, for Tasmania Parks and Wildlife Service and as a teacher of printmaking and cultural understanding. Allan's work is in collections across the world. These include the Dutch Royal Collection, after he was commissioned to make a work for the Crown Prince and Princess (now King and Queen) of the Netherlands. Today he lives on Bruny Island, where he will soon be opening a small gallery for Tasmanian Aboriginal art.
Allan Mansell, plangermaireenier people, Beginning of a Train (from the Echidna series), collagraph (detail)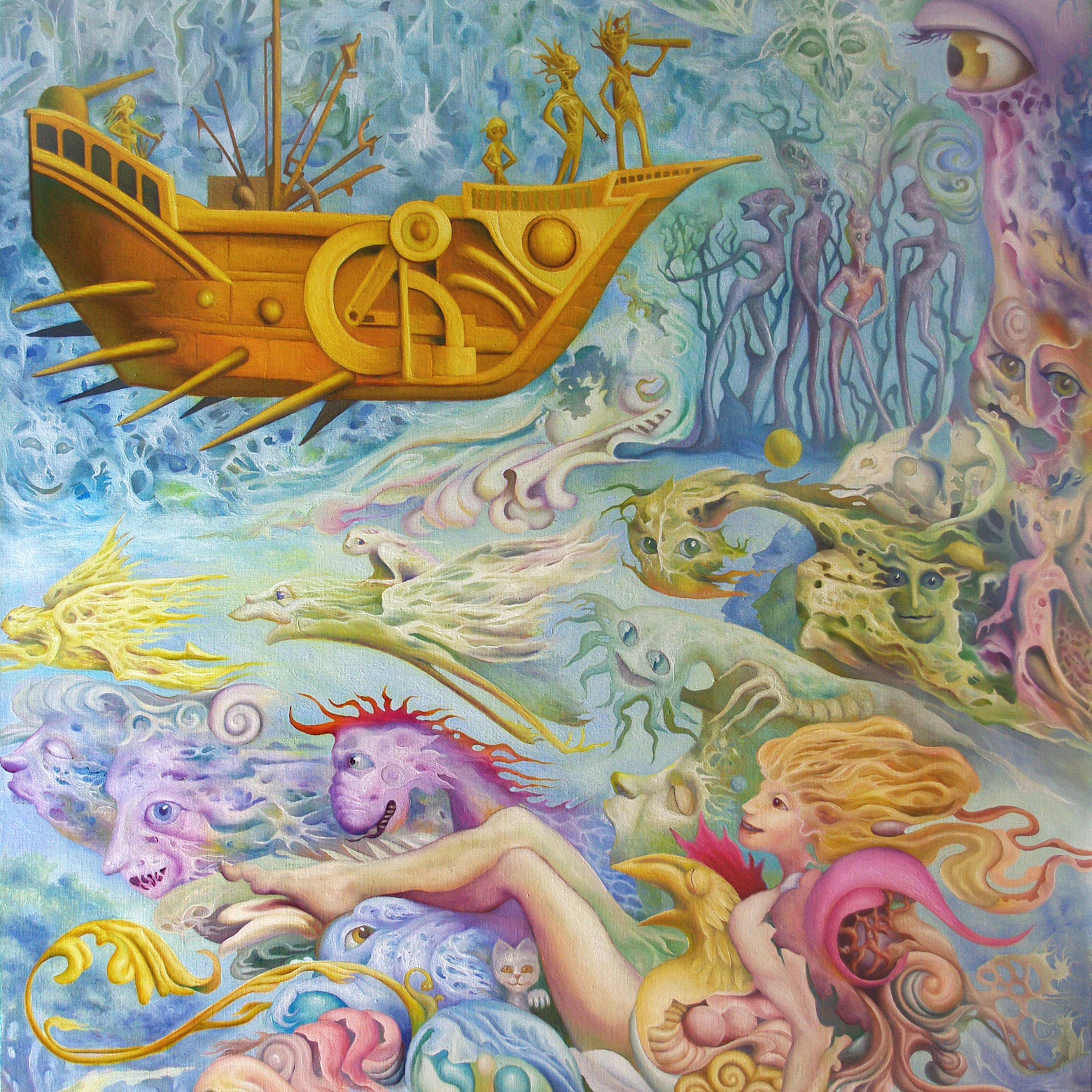 Elizabeth Barhsam, Off to Exploit the Antipodes, 2021, oil on canvas (detail).
OPENING HOURS
10am – 4pm daily
EXHIBITION DETAILS
Told/Retold
Elizabeth Barsham & Allan Mansell
25 March – 28 May 2023